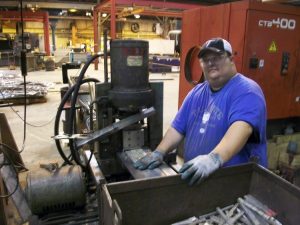 Since it's beginnings in 1913, The Warren Company has been committed to employee development and growth because we consider our employees as our greatest asset. Being a 4th generation family-owned company, many employees have had long, successful careers with us, with a current average of over 14 years of experience. Whether it's fabricating complicated assemblies, managing the material supply or delivering products to a customer, we offer a rewarding and challenging work atmosphere. Training is an important part of our philosophy, and our employees regularly receive training to help improve their skills and advance their careers.
Employees are paid competitive wages and receive a benefit package including paid holidays, vacations and personal time, health insurance, a 401K-retirement plan, and profit sharing bonuses. Tuition reimbursement and employee discounts are available as well.
The Warren Company is based in Erie, Pennsylvania, located in the Northwestern part of the state. While the city is known for the large amount of snow it receives each year, it is also an area where residents can experience all four seasons and find a multitude of recreational activities, both indoor and outdoor. It is home to professional minor league baseball, basketball and hockey teams, has several performing arts venues, has three colleges and universities, and sits along the shore of Lake Erie. Additionally, Erie is home to Presque Isle State Park, popular for its 11 beaches and a variety of water sports and recreation.
If you have an interest in working for The Warren Company, send your resume to hr@thewarrencompany.com
Current Career Opportunities
Truck Driver Position
Do you love driving a truck but hate the nights spent away from home? We are a 4th generation Erie Steel Service center looking for an experienced class A CDL driver to make local (Erie, Western NY and surrounding counties) deliveries.
Responsibilities to include: Securing the load, pre and post-trip inspections, delivery and unloading of material, maintaining accurate trip logs (all per Federal, State, Local and Company standards), all while ensuring proper handling and care of materials as well as showing courtesy to our customers and co-workers. If you are a safe, courteous driver who values a predictable schedule with a Class A CDL license in good standing (with medical certificate) apply today at hr@thewarrencompany.com