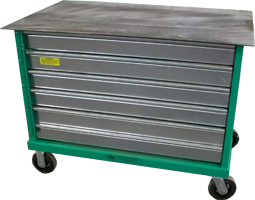 Size:
48″ X 30″ X 36″
Top:
5/16″ steel plate
Body:
16-gauge cold rolled steel
Drawers:
14-gauge galvanized steel drawers. 40″ X 24″. Available in 4″ and 8″
Weight Capacity:
Designed and built for heavy duty use, the unit has a 2,000 lb. overall capacity with 200 lbs. maximum per drawer.